IF—two letters brimming with possibility, or filled with questions, or fraught with uncertainty, or predicting outcome . . .
IF—two letters representing the simplest elements of my first official form of ID:  the initials of my name at birth. 
IF—two letters cloaking me in pseudonymity when I, as  a student poet, cried from a page of an underground newspaper demanding accountability from a university invested in enterprises sustaining apartheid-rent South Africa . . .
IF—two letters titling a classic poem ever stirring me to "keep (my) head when all about (me) are losing theirs."
Through this writer's blog, I express myself unconditionally, as IF there were no concrete barriers behind which I must shield my thoughts.
Always writing as IF . . .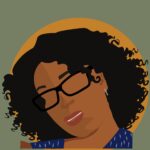 A corporate trainer, inspirational speaker, and former instructor, I'm a multidimensional word sculptor, who avoids cookie-cutter creation. I serve as a principal writer at The Formey Touch, a professional writing support collective rooted in my family's passion for communications excellence. Some of my pieces have appeared in Essence magazine and the Encyclopedia of the Harlem Renaissance, on MSNBC (which SCAD featured during its Presidential Conferment of Degrees and Presentation of Degrees ceremonies in 2021). 
Leave a comment or email me at iris@ifwrites.com.